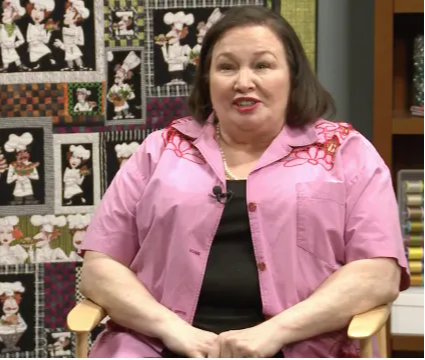 Whether you want to begin a career as a sewing teacher or advance your sewing career, or just have fun making gifts for your home and family, the Sulky® Online Teacher Certification Training program is designed to enhance your success with the most up-to-date teaching skills. In the comfort of your home you'll learn how to do and teach the most popular creative machine art techniques and how to use the newest creative products as you develop beautiful, inspiring samples; and have lots of fun doing it! Or, maybe it is just time to do something creative and educational for YOU because you deserve it! Lots of people take this course just for the fun of it! Join us everyone is welcome!
What's Included:
Of course, you will be using your own print of choice, but the techniques can be the
MORE THAN 5 amazing projects that teach dozens of Machine Art Techniques

Video instruction by Ellen Osten, National Director of Education

This is an 5 week course, but with access for an additional month to download all course materials and videos

Access to communicate for 2+ months with the Sulky faculty who will be available to answer any question you might have about projects, patterns and teaching methods

Downloadable Certification Manual which includes a comprehensive curriculum, reproducible class handouts, full color photos which show you step-by-step how to create each project, plus Sewing and Business Education.
Plus:
Receive training on the Business of Teaching: Marketing and Promoting Classes

Great suggestions on where to teach

Learn about class pricing suggestions

Learn about kit fees & class policies

You'll receive the news release guidelines

Master teacher preparation

Learn how to understand threads and stabilizers: where, when, why and how to use them

Lesson 1 – Butterflies of Hope - Sandpaper Art Placemat and Bonus Matching Mug Rug and Oven Mit
Lots of color and design options included: Butterflies, Hearts, Leaves, and Sea Shells. But any simple design could be used. The technique can be used on clothing, quilts, home-dec and anything fabric.

What a simple blessing to make and send to someone you care about. And what a wonderful technique to share with your children and grandchildren, teaching them the joy of sharing their love. Fast, fun, and so rewarding.
We all need "hope" in our lives regardless of the size or content of our battle. Or it can just be a cheery reminder of the blessings in our lives. This placemat can be used for a centerpiece, a single bed tray (or make a set of placemats). They make a wonderful gift for someone who is recovering from any illness. Or just to send love and encouragement. Perhaps just a small mug-rug hug?
Sandpaper Crayon Design Transfer

Echo Quilting

Quilting with a Solvy Pattern

Insulated Batting

Binding with Mitered Corners

Optional Binding Concepts

BONUS Matching Mug Rug

BONUS Matching Oven Mit

...and more!

Lesson 2 – Not Your Grandma's Bowl
A soft, but very stable, fabric bowl that easily coordinates with your decor. Choose fabrics from a matching quilt, tablerunner, or just colors and fabrics you love. Using McKenna Ryan's beautiful Hoffman fabrics, Designer Carol Ingram has created a fabric bowl that will blow the doilies off grandma's table! Now you can match any décor, even masculine rooms with appropriate fabrics, using this contemporary design and Sulky Fuse 'n Stitch™ Stabilizer.
Techniques:
Bowl Forming and Stabilizing

Faux Prairie Point Edging

Raw-Edge Appliqué

Decorative Free-Motion Stitching

with Metallic Threads (or Machine- Fed Decorative Stitches)

Free-Motion Metallic Dragonfly

Yarn Couching

3-D Elements, Sequins, Beads, Yarns... and more!
Finished size: approx. 10-1/2" in diameter
Lesson 3 – On-the-Go Tech Tote
We are all hauling around (at the very least) a cell phone, chargers, ear-buds, etc. So Carol Ingram designed this fun mini-tote that makes a perfect gift for lots of people in your life. It started out as a Doggie Treat Bag – so even the most tech-resistant friend or family member could benefit from this project!

This is a small rectangular tote with a "window" to show fun buttons and trinkets. A themed (un-pieced) fabric can be used for the outside of the tote and the lining a contrasting fabric. There is a flap closure secured with Velcro squares, and eyelet holes at the base of the flap for a shoulder length cord strap.
When used for doggie treats, a clear plastic zip-top bag is secured inside.
Simple Piecing

Raw-Edge Finishing

Working with Vinyl Windows

Inserting Eyelets

Velcro closures

Free-motion or Machine-Fed

Decorative Stitching
Finished size: approx. 7-1/2" x 9"
Lesson 4 – Happy Place 3-D Travel Tray
Aren't we always scrounging around for something to put our jewelry in at night in a motel or friend's house? This snap-together tray, lays flat for packing and snaps together quickly upon arrival. Actually, it's too pretty not to use at home, too! This is going to be one of your favorite projects! Quick and easy to make. You'll be making them for every occasion and everyone in your family. This is a great project to make with left-over fabric from a home-dec project like a quilt or pillow. A matching gift for the next occasion!
Using Fusible Stabilizers

Decorative Stitching with Metallic Threads

Quilter's Guide for Cross-Hatching

Making a Sulky Sticky+™ Template

Attaching Decorative Snaps

Envelope Turn …and more!
Finished size (snapped): 6-1/2" x 6-1/2"

Lesson 5 – Hold My Napkin, Please! and BONUS Crochet Edge for napkins, clothing and more
We love "Paying it Forward" with our Sulky Certified Teacher Training events. It is an honor to support the fabric companies and designers who have created beautiful breast cancer research support fabric. It is a joy to create this placemat featuring these fabrics. But more than that, we feel we have a duty to "Pay it Forward". The sewing industry has prospered in difficult economic climates. But, charities at home and nationwide have suffered. Many of us have turned to sewing and quilting for economy, practicality, gift making and community support.
We hope we can encourage you and your friends in your local community to pay it forward and "Create for a Cause". Do what you can, where you are. It's easy to "bloom where you are planted".
For our original project, we once again chose Breast Cancer Support fabric, but the sky's the limit really. We love Loralie's prints, and they make a wonderfully feminine addition to any ;placemat or project.
There is a separate "Crochet Edge by Machine by Cindy Losekamp" section which can be a separate class or an addition to this one.
Raw-edge Appliqué with a Twist

Free-motion Ribbon Quilting

Double Topstitching Using Needle Adjustments

Attaching Buttons by Machine

Machine-Made Thread Lace-Edging for Napkin (or garments)
Stress-Free, Fun, and Techniques-by-the-Ton
All of the 5 projects included must be completed to be eligible for certification. Create, photograph and post the required projects to the Teacher Certification Blackboard System. The Sulky Certification Teaching Staff will evaluate your projects. Once your evaluation is complete, you will then receive your Sulky Teacher Certification Certificate. Remember, being certified does not mean that you are required to teach.