Why do we sew? Everyone's story is different. We interview sewing stars & industry professionals, quilters & embroiderers, menders & makers to bring you inspiring stories that give you all the feels. Listen while you sew or on the go and learn about sewists from all walks of life; what motivates their passion; how they innovate their craft; and more. Then go make something great!
Amy Barickman is the founder of Indygo Junction, a pattern company producing garment and home-décor patterns. She's the author of Vintage Notions and loves to discover vintage treasures.
Amy is a leader in the sewing, needle arts and retail crafting industry. She is the author of multiple books including Amy Barickman's Vintage Notions: Any Inspirational Guide to Needlework, Cooking, Sewing, Fashion and Fun, as well as The Magic Pattern Book, which offers 36 unique fashion and accessory patterns - a whole wardrobe in a book!
Amy grew up immersed in the sewing and crafting business, spending hours at her mother's creative arts retail store working and watching the business evolve along with the trends. The seeds of entrepreneurship took root in Amy, and she started her own business designing and marketing collectible teddy bears while still in high school.
After graduating from the University of Kansas with a degree in art and design, Amy founded Indygo Junction in 1990 to publish and market sewing books and patterns and to showcase the work of leading designers. Amy's knack for anticipating popular trends has led her to discover more than 45 innovative artists and designers.
Through Indygo Junction, Amy has:
- published over 1000 pattern titles
- sold nearly three million book and pattern titles
- licensed craft kits and fabric lines
- published over 80 books that have sold at stores throughout the U.S. and internationally.
Amy, an avid collector, has one of the largest archives of vintage fashion and sewing books, images and ephemera in the United States. This vintage collection is inspiration for many of Indygo Junction's modern patterns. Amy's research into sewing history led her to discover her muse, Mary Brooks Picken, the founder of The Woman's Institute of Domestic Arts & Science who was a fashion and sewing authority in the early 20th century. Amy realized she was compelled to share Picken's timeless work with modern audiences.
That dream was brought to fruition when Amy published Amy Barickman's Vintage Notions: An Inspirational Guide to Needlework, Cooking, Sewing, Fashion and Fun. Vintage Notions is a treasury of the best lessons and domestic arts wisdom from Mary and The Woman's Institute.
Amy and her work have received much acclaim in the news media, including on home and fashion shows and in magazines and industry periodicals. Amy had the honor of being named one of Country Living magazine's prestigious Creative Women Entrepreneurs. In addition, Amy has made numerous television appearances including regular visits to Sewing with Nancy on PBS.
Amy inspires countless crafters to explore their own creative spirit and experiment with the newest sewing, fabric and crafting techniques.
Find Amy:
---
"It's not about WHAT I made. It's about the MAKING." - Suzy Williams of Suzy Quilts
---
Jason Prater loves to hear about why people sew. As the President of Sulky, and an industry veteran of 25+ years, it seems like he's heard it all. But there's always a new story, a new reason, a new event that sparks a new interest in sewing, and he's happy to share those stories with you. Jason brings extensive industry knowledge and his enthusiastic personality to the podcast. His infectious energy will have you reflecting on your sewing story, and you'll want to run to the sewing machine to start making something new.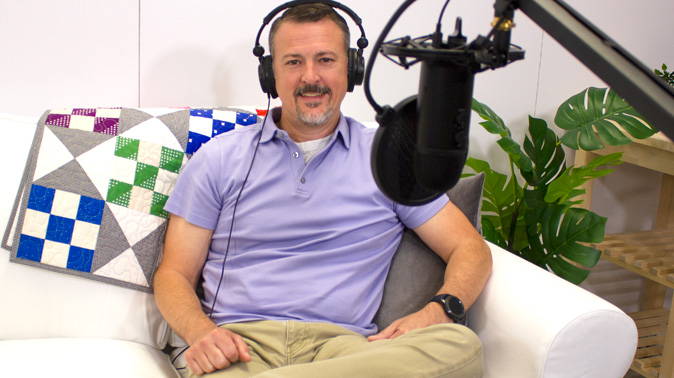 ---
"I love the Sulky brand. It is like painting with threads." - Desiree Habicht of Desiree's Designs
---
If you like the Why I Sew Podcast, the best way to support us is to leave a five star review on the podcast app of your choice. It really helps people to find us.
---
"There is nothing better than sitting down and getting an idea and then using your own 2 hands to make that come to fruition. - Mark Montano at www.markmontano.com
---