WHAT PAYMENT METHODS DO YOU ACCEPT?
We are happy to accept the following payment methods:
Visa

MasterCard

Discover

American Express

E-Gift Cards

PayPal (Pay Later)

Amazon Pay


CAN I CHANGE OR CANCEL MY ORDER?
Once you submit an order through our checkout page, it begins to process and cannot be changed or canceled. We apologize for any inconvenience.
If an item on your order has been moved to backorder status we will contact you as soon as possible.


WHEN WILL I RECEIVE MY ORDER CONFIRMATION EMAIL?
Order Confirmation emails are typically sent within a few minutes of placing your order but can take up to an hour - be sure to check your spam folder! You can also check the status of your order by logging into your account
If you didn't receive your Order or Shipment Confirmation Email, please contact us and we can confirm the email address associated with your account. We often find that incorrectly typed email addresses often cause missing emails. Additionally, when using PayPal, please check to make sure an alternate email address is not associated with your PayPal account, as your Order Confirmation email may have been sent there.


HOW DO I CHECK THE STATUS OF MY ORDER?
It is easy to check the status of your order, log in to your account if and go to your order history. If you checked out as a guest you will not have an order history, however, when you do create one we can link them in the future.


WHY IS MY PROMOTION CODE NOT WORKING?
There could be a couple of reasons why a promotion code isn't working. One, check the expiration date to ensure it is still a valid code. Two, check the items and the subtotal of your order to ensure you are meeting the coupon requirements. If you are still having issues, please contact us, email us customercare@sulky.com or call us at 1-800-874-4115


---
HOW IT WORKS
ORDER CONFIRMATION PAGE



ORDER CONFIRMATION EMAIL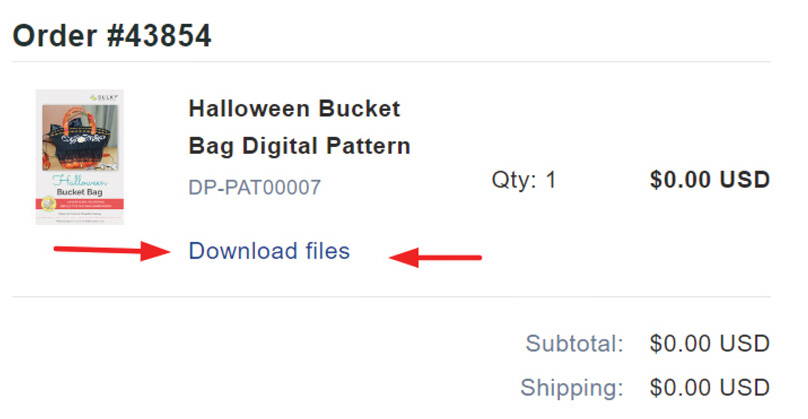 MY ACCOUNT - ORDERS - CLICK ON THE ORDER



CLICK ON THE ARROW IN THE CIRCLE




CLICK ON THE DOWNLOAD LINK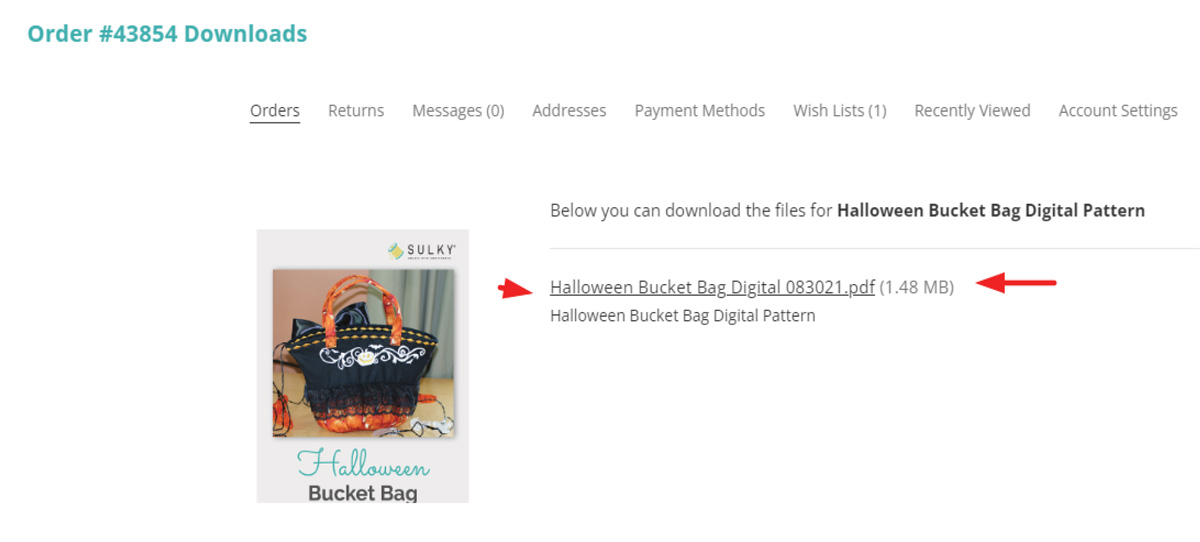 ---

DO YOU HAVE REAL COLOR CARDS?
Why, yes we do! You can purchase our color cards here >> - Sulky Color Cards.


HOW DO I UNSUBSCRIBE FROM YOUR MAILING LIST?
There are two quick and easy ways to unsubscribe from our mailing list:
One you can unsubscribe at the bottom of all email correspondence, except for transactional emails (order confirmation, shipping confirmation, forgot password, gift certificates, etc.), or email us at customercare@sulky.com and one of our customer service representatives will unsubscribe your email address.


DO YOU CHARGE SALES TAX?
We collect sales tax for orders that are shipping to the following states Georgia, Colorado, North Carolina, and Florida.


DO YOU MATCH PRICES IF AN ITEM GOES ON SALE AFTER MY PURCHASE?
For online purchases, a one-time price adjustment from the original selling price to the current selling price can be issued within 5 days after the original purchase date.
Price adjustments do not apply to Flash Sales, promotions lasting 24 hours or less, or special email offers. To receive the new promotional pricing, you must return the original purchase (forfeiting any coupons or promotions used on the original purchase) and repurchase at the Flash Sale or One-Day Sale Pricing.
Unfortunately at this time, we are unable to price match.


WHAT IS THE DIFFERENCE BETWEEN SULKY.COM AND SEWINGONLINE.SULKY.COM?
If you have registered for a Sulky Webinar, Webcast, Videocast, Special Event or Sewing Session, those items are located on our education site: sewingonline.sulky.com. This is a separate website (different from sulky.com) and requires a separate login. Take note of the credentials you use here (sulky.com) as well as those used at sewingonline.sulky.com for future reference. We are unable to combine purchases made here with those made on the education site and vice versa.


What are your hours of operation?
Our hours of operation are Monday - Friday 8:00 - 5:00 ET


Where do you ship from?
Our warehouse is located at:
980 Cobb Place Blvd
Suite 130
Kennesaw, Ga 30144


FURTHER QUESTIONS?
We love hearing from you! If you have any questions please contact us, email us customercare@sulky.com or call us at 1-800-874-4115


#sewbetterwithsulky #quiltbetterwithsulky #embroiderbetterwithsulky