Filaine Gnome Beard & Cat Brushed Out
Cross-Stitch On Wooden Blank
Featuring New Filaine Petites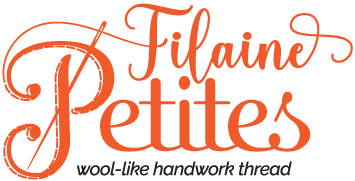 Introducing Filaine, another fabulous time-saving thread product from Sulky!


Cross Stitchers, Needlepunchers, and other hand stitchers that have come to love the 12 wt. Cotton Petites will be thrilled with the newest thread from Sulky. Filaine 12 wt. Acrylic "Petites" offer the same convenience of not having to separate strands and avoiding tangles while providing a thread with more texture and a vintage look. Filaine produces a stitch that mimics vintage handwork, with a nubby textured feel and appearance. It can be "brushed" out to mimic real fur, foliage, clouds, and more.
Filaine is available in 129 individual colors, two handy Slimline Storage cases, and numerous 6-pack assortments of your favorite color palettes.
Easier, Faster and More Fun than Floss!
One strand of 12 Wt. Filaine Petites equals TWO strands of
the typical embroidery floss!
• Cut to Any Length
• Tidy Storage With The Snap-end Spool